Sahara Yoga Retreat FAQ
Sahara retreats: an epic trip to the beyond. A wild vision quest into the magical Sahara desert. Call it what calls to you - but we have put together an unbeatable trip and we want you to be a part of it.
To help answer all of the questions we've received about this awesome event - we've created this little FAQ that will hopefully shed a little more light on the itinerary and plans for the week. And if, at the end, you still don't feel like you have all the info you need - tell us how we can help!
WHAT ARE THE ACCOMMODATIONS LIKE?
In Marrakech, we'll be in a comfortable and modern 4* riad, which is a Moroccan word for "bed and breakfast". The house has no more than 8 rooms, so it will be double accommodation unless you have requested a single room. These homes are located in the ancient medina of Marrakech, putting you in the center of the sights, markets, historical monuments, and a great spot for witnessing daily Moroccan life. The rooms and common areas are decorated with modern facilities, handmade textiles and decor, and the roof is a perfect place for relaxing in the warm sun.
In the village of Agdz and the city of Ouarzazate, you'll be in "southern-style" riads that are modeled after ancient kasbahs with modern amenities and all the comforts of home. Sometimes our accommodations have a pool, so don't forget your bathing suit!
Once in the Sahara, we move into the traditional nomad camp, which is a true "glamping" experience. Sit under the stars on a Moroccan carpet and watch the night sky, climb dunes and ride camels into the sunset. Its here where most of our cultural activities will take place, which comes as no surprise in such an awe-inspiring and creativity-sparking location.
WHAT DO YOU MEAN BY GLAMPING?
Glamorous camping! Our camp is a family-owned and operated business and consists of spacious and modern tents with electricity, real beds & cotton linens, blankets, and a communal space for toilets (yes, they flush!) and showers (with hot water!). So you can get the full experience of Sahara camping without losing the comforts of home. Our camp also has its own restaurant, with local cooks preparing the best in traditional and healthy Moroccan cuisine for breakfast, lunch and dinner, and offers an indoor or outdoor dining experience.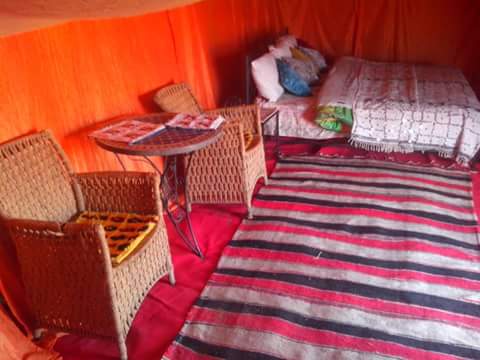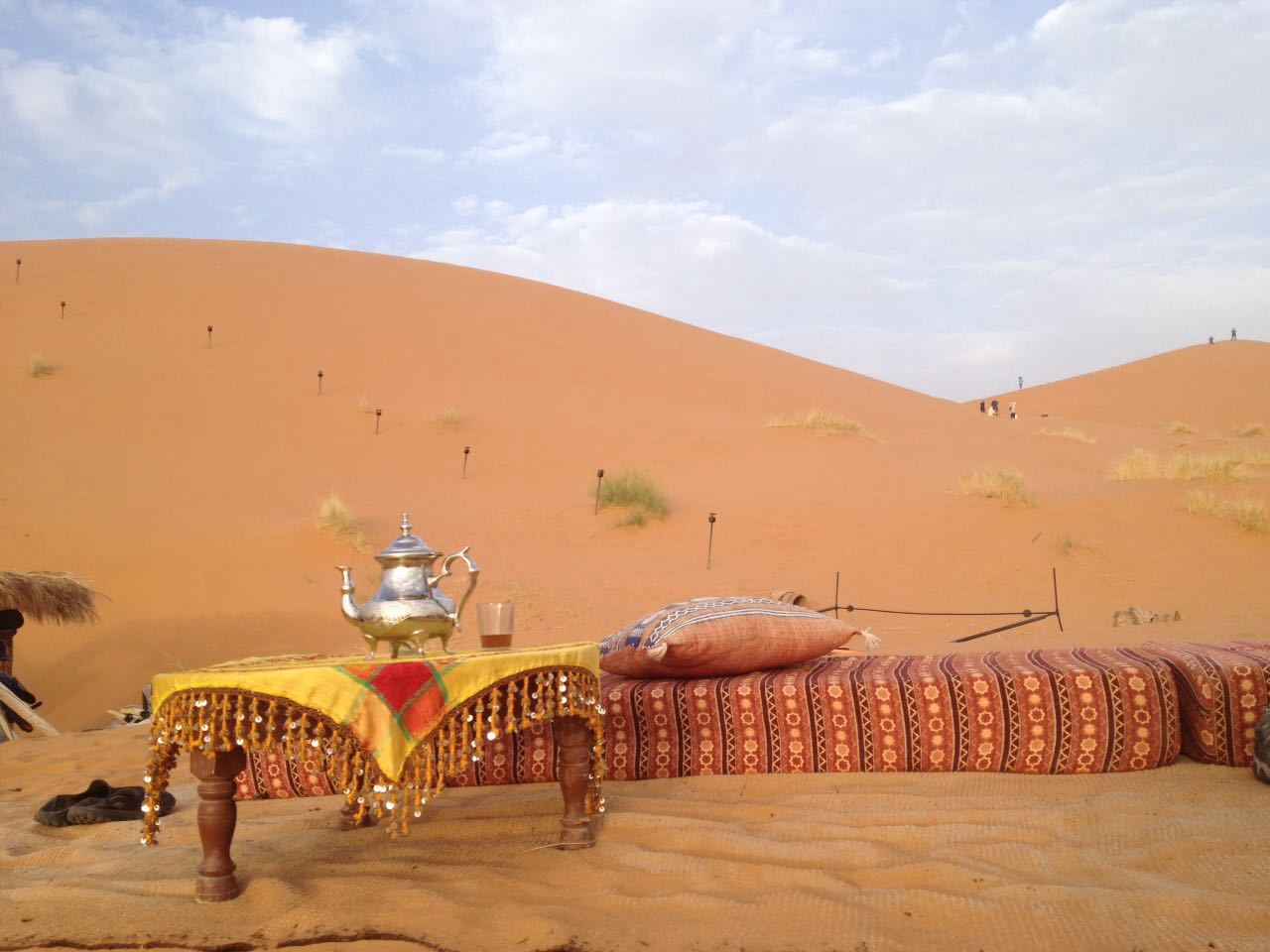 I'M NOT MUCH OF A YOGI - DOES THIS MEAN I SHOULDN'T COME?
This means you SHOULD come! The yoga classes are multi-level and we explore many areas of yoga throughout the week. From fundamentals and alignment to vinyasa flow to yin and restorative yoga - you'll be able to experience a wide variety of yoga styles and techniques, which is a great way to strengthen your personal practice or simply decide what style of yoga fits you best! Our teacher will work directly with you to make sure that your postures are aligned right and that you're getting benefits from your practice. And at the very least, we recommend going into everything with a full heart and a sense of humor. Who knows, you might surprise yourself!
WHAT WILL THE WEATHER BE LIKE?
September/October and March-May in Morocco are the best of the seasons. We expect daily temperatures averaging at 20-30 degrees C and nighttime temperature of 15-20. Other weather predictions are sunny and clear skies, light to no wind, and fresh air!
HOW MANY PEOPLE WILL BE ON THE TRIP?
It depends, but most retreats are usually 10-15 people.
WHEN WE TRAVEL TO AND FROM MARRAKECH, WILL IT BE SAFE?
Yes. We take 3 guests per car (modern 4x4 SUV's with air conditioning) that travel in convoy, with at least one driver/guide per vehicle. Our drivers are certified and licensed tourism driver and the cars are licensed tourism cars.
WHAT IF I DON'T WANT TO PARTICIPATE IN SOME OF THE ACTIVITIES?
Hey, this is your trip after all! While there are multiple activities and workshops offered daily, you are not required to attend or participate unless you want to. Of course we want you to get the full experience, but if you need some quiet downtime or prefer to do some exploring on your own, that's totally up to you!
I HAVE SOMETHING TO TEACH/CONTRIBUTE - CAN I?
Yes, please! Our retreats are all about discovering and unleashing your power - no matter what the power is. If you've got a talent, craft, or technique you'd like to share or teach - let us know! We would love to include it in the itinerary!